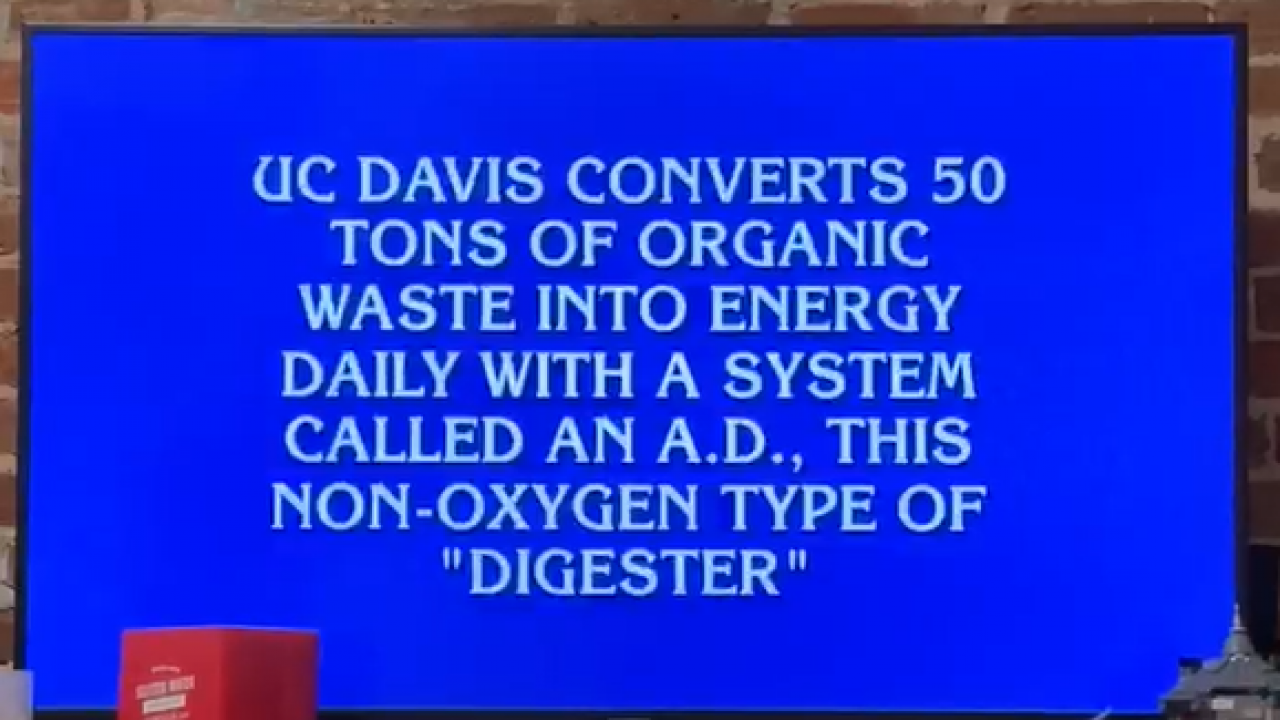 UC Davis and the Department of Biological and Agricultural Engineering (BAE) were featured on a question from the April 6 episode of Jeopardy's College Championship. A $600 question under the "E-College-y" category read, "UC Davis converts 50 tons of organic waste into energy daily with a system called an A.D., this non-oxygen type of 'digester.'"
The answer, of course, is "what is anaerobic?" Invented by BAE professor Ruihong Zhang, the UC Davis Renewable Energy Anaerobic Digester, known as READ, converts organic waste from food and agriculture into renewable energy that's used to power campus.
Its large anaerobic bioreactors are home to billions of tiny microbes who digest the organic matter and turn it into gas, which is then used to create electricity. The facility was built in partnership with Sacramento-based green technology company CleanWorld and opened on Earth Day 2014.
The digester is built on the site of the former campus landfill, representing a literal replacement in waste management technology. Campus estimates that it diverts 20,000 tons of waste from local landfills and offsets 13,500 tons of greenhouse gas emission each year, which is a key step toward making campus and the UC system carbon neutral by 2025.
READ is the first system of its kind on a university campus and has paved the way for more research into ways to make organic waste more sustainable.
Jeopardy's College Championship is an annual two-week tournament where 15 college students represent their universities while competing in the popular gameshow. Winners receive $100,000 while bringing pride to their schools.
Category