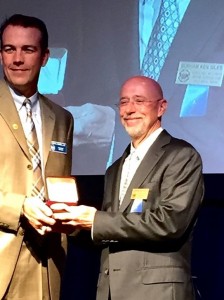 Congratulations to Dr. Giles on this prestigious award!  Read the following details from ASABE's website.
Durham Ken Giles, ASABE Fellow, is the recipient of the 2015 Cyrus Hall McCormick Jerome Increase Case Gold Medal Award for his insightful research, creative design and implementation of agricultural chemical application equipment for improving the environmental aspects of agriculture.
Giles, professor and vice chair, Department of Biological and Agricultural Engineering, University of California, Davis, is considered a worldwide leading expert in agricultural chemical application and is recognized as one of the most innovative engineers in the field. The commercial implementations of his research and development projects have been products or production methods that have significantly reduced the environmental effects of agricultural chemical use in the U.S. and worldwide.
Giles's major accomplishments include the administration and completion of a wide range of successful engineering projects related to materials handling, spray creation and application, sensing and control system development, and environmental protection. He designed and produced some of the earliest spray and spatial mapping systems commercialized for agricultural spraying, which led to three decades of continuing work that has included the creation and development of pulse width modulation for spray application control on agricultural vehicles, now an industry standard method. He has developed novel spray application systems and fluid handling methods for a range of industrial and governmental needs, including consumer products, homeland security, organic crop production, and biotechnology. Giles has guided ten USDA Small Business Research and Development Phase I & Phase II commercialization projects in the area of spray liquid handling and sensing. Various industries, non-profit organizations, and governmental agencies seek his expertise as a consultant for his technical and communication skills and for his leadership in creative project management.
In addition to teaching an advanced course on pest control methods and spray application of agrochemicals, Giles also teaches engineering design courses and supervises the senior capstone engineering projects for the biological systems engineering undergraduate program at UC Davis. He has authored or co-authored more than 80 refereed journal publications on topics ranging from spray droplet physics, spraying and control systems, target sensing, sensing and modification of fluid properties, reduction in particulate, vapor and liquid emissions from agricultural processes, equipment design, and regulatory policy.
In his 36-years of ASABE membership, Giles has provided leadership to various Machinery Systems steering, publications, and technical committees. He has served as a technical community editor for Transactions of the ASABE and Applied Engineering in Agriculture and is currently serving as associate editor for both publications.
Elected a fellow in 2013, Giles has received numerous awards from ASABE, including four AE50 awards, six Paper awards, a Rain Bird Engineering Concept of the Year award, and a California/Nevada Section Engineer of the Year honor. His work has received more than twenty-five patents.
Category