On Saturday February 25th, three student clubs of the BAE Department: the American Society of Agricultural and Biological Engineers Student Chapter (ASABE), the Society of Biological Engineers (SOBE), and the Biological and Agricultural Engineering Graduate Student Association (BAE-GSA) teamed up to attend a tour of the California Agriculture Museum in Woodland, CA.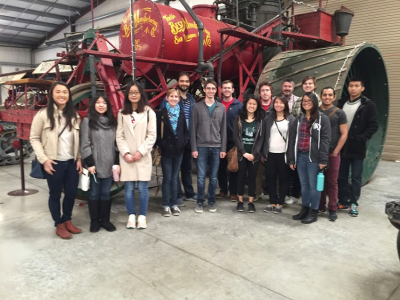 Founded in 1995, the museum is the home of the Fred C. Heidrick Sr. tractor collection and features over 100 antique tractors from the 19th and 20th centuries. Students were led on a tour by the extremely knowledgeable curator Bob Eoff and learned about the evolution of California Agriculture from its beginnings using horses and mules to power plows and wagons to the emergence of tractors, threshers, and combines. Students also had the chance to see a couple examples of the mechanized tomato harvester, a famous UCD innovation and product of collaboration between engineers and life scientists. After the comprehensive two-hour long tour, the group enjoyed lunch at El Charro in downtown Woodland.
The weekend event was a great success and the clubs are looking forward to organizing more events that bring together undergraduate and graduate students to celebrate the rich history of agricultural and biological engineering.
Category