UC Davis biological and agricultural engineering (BAE) graduate student Lauren Jabusch seems to be everywhere these days.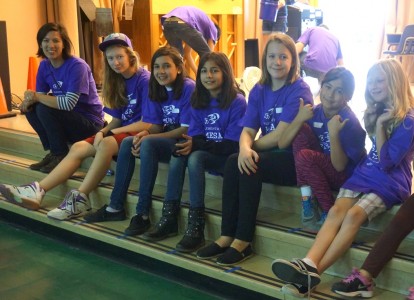 Her research work on biofuels and microalgae cell wall analysis — with the goal of extracting starches and lipids, in order to efficiently produce ethanol and biodiesel — keeps her quite busy. So does her role as chair of the Board of Directors of the California Student Sustainability Coalition (CSSC), which unites, supports and empowers students across California to transform their educational institutions and communities into models of ecological, economic and social sustainability. Jabusch is a longtime activist, and has been with CSSC for more than seven years.
She also serves on the UC Davis BAE Department's Safety Committee, and has worked as a team leader at the College of Engineering's annual STEM for Girls Day.
"Yes, I'm always busy," Jabusch laughs. "It lets you know that you're alive."
No surprise, then, that she recently received the Chancellor's Achievement Award for Diversity and Community, which recognizes individuals who enhance inclusiveness and diversity within the campus.
Pleased as she is by that honor, however, Jabusch is far happier with the news from the Sacramento City Unified School District's A.M. Winn Elementary School, where instructor Denise Ayeni's 33 sixth-grade students just took a top prize in the district's annual Project Green competition.
Read the rest of this story at the College of Engineering's website.
Category