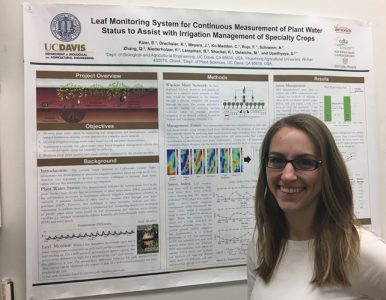 Congratulations to Erin Kizer, graduate student in the Department of Biological and Agricultural Engineering, who won the second place poster award and a cash prize in the graduate student category poster competition at the ASABE California-Nevada Section meeting in Tulare, CA, on 15 February 2017!
Her winning poster is "Leaf Monitoring System for Continuous Measurement of Plant Water Status to Assist with Irrigation Management of Specialty Crops".
Kizer works in the lab of Professor Shrini Upadhyaya, and she says they had a sizeable team this year.  The authors on the poster were: Kizer, E., Drechsler, K., Meyers, J., Ko-Madden, C., Rojo, F., Schramm, A., Zhang, Q., Niederholzer, F., Lampinen, B., Shackel, K., Delwiche, M., and Upadhyaya, S.
ASABE's annual meeting holds poster competitions for undergraduate and graduate students.  The students present their research to other students, academics, and professionals in California and Nevada.
Category