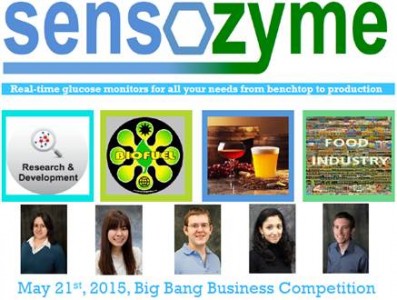 Akshata Mudinoor, Maria Cardona, Nardrapee Karuna, Chris Roberts and Scott Strobel are graduate and undergraduate students in the Jeoh Lab, and make up team Sensozyme in this year's Big Bang! Business competition held by the UC Davis Graduate School of Management.  The team is one of five finalists in the annual competition, which provides a forum for the UC Davis community to collaborate, develop and test business visions and plans.  The winner of the competition receives $10,000.
So far in this competition, members of team Sensozyme have successfully competed against 50 teams through several elimination rounds to be named one of five finalist teams. The top three winners will be announced this Thursday, May 21st (6-8pm) at the finals and awards ceremony that is open to the public.  Team Sensozyme will be presenting their 5 minute pitch for the glucose biosensor business idea that they have been developing through the course of this program.
Please come out to support team Sensozyme on May 21st and vote for them in the People's Choice Award category that is in addition to the prizes awarded by the competition judges.
Category