The International Society of Precision Agriculture (ISPA)  recently awarded Erin Kizer with the Outstanding Graduate Award.
Erin, a grad student in Professor Shrini Upadhyaya's lab, studied biomedical engineering at UC San Diego.  She says, "I realized my passion for exploring the intricacies of life were rooted in my love of nature … My focus of study is now on precision irrigation management. I'm hoping to contribute to helping solve a growing dilemma the world is facing, which is how to optimize the world's water resources in both sustainable and cost-effective ways."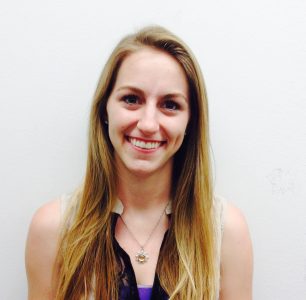 In the Upadhyaya lab, her team uses a continuous leaf monitor to learn how to sense when a plant is thirsty and give it water only when it needs it.  The plant's 'thirst' is determined by monitoring and measuring the plant's leaf temperature, humidity, and air temperature among other key variables.  She explains, "We are currently working to answer the question of how much water does a plant need when it becomes thirsty, using both almond and grape crops as the focus of our study. Precision agriculture allows us to understand and innovate at new levels (much finer spatio-temporal levels), discover new theories, and understand reality on deeper levels. It highlights patterns and phenomena that will permit us to be more effective stewards of our environment and the world. We must also use these capabilities responsibly.
"I believe the application of technology to the field of agriculture as a foundation for sustaining life, constitutes one of the oldest and most noble pursuits of man."
Professor Shrini Upadhyaya says,  "When I heard about this award, I could not think of a better person than Erin to apply for it.  She has been performing exceptionally well ever since she joined my laboratory last summer.  She has maintained a perfect 4.0 GPA here at UC Davis with several A+ grades.  She is bright, hardworking, energetic and has been a role model for others in my lab."
It sounds well-deserved.  Congratulations Erin!
Category