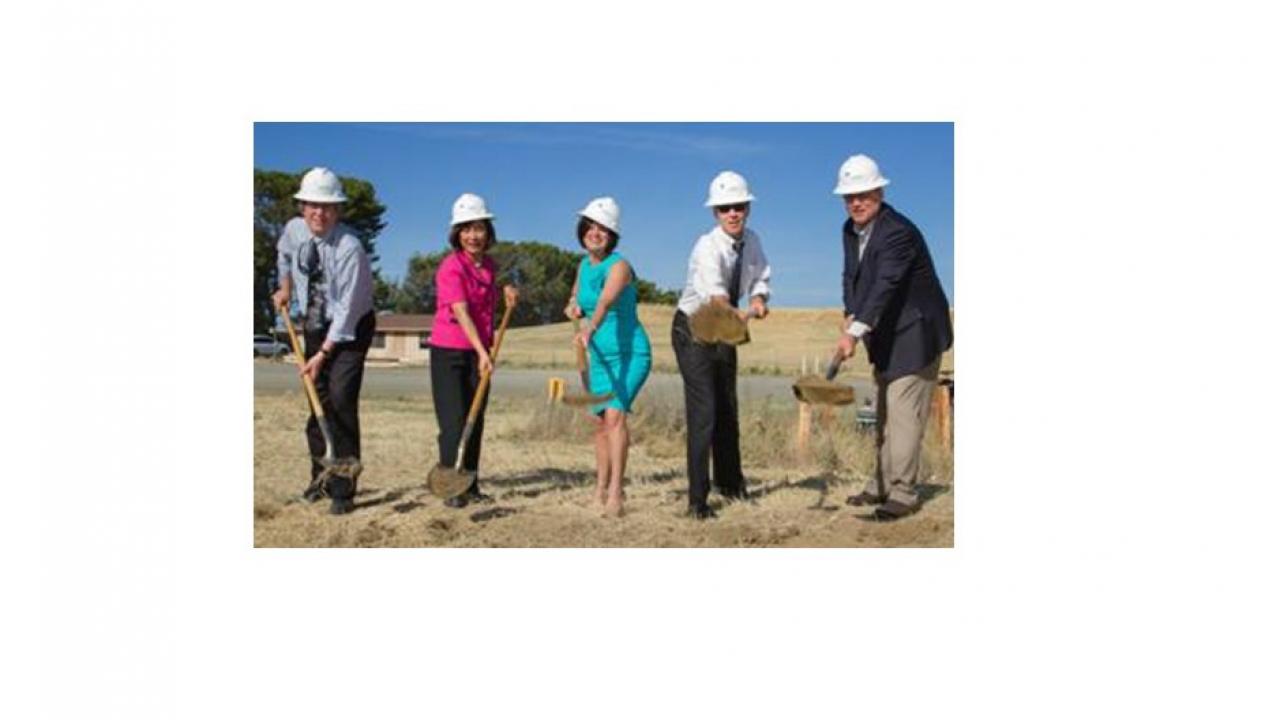 By Departmental Staff
Davis, CA – CleanWorldtoday announced that it has begun construction on the UC Davis Renewable Energy Anaerobic Digester (UC DAVIS READ) facility located at the former UC Davis landfill in Davis, California.  The facility employs innovative Anaerobic Digestion technology, utilizing natural microbes to break down organic material, generating renewable energy for campus buildings and organic fertilizers and soil amendments for Davis area farms.
CleanWorld's BioDigester will divert 20,000 tons per year – nearly 1,500 truckloads — of food waste from dining halls, dormitories and local restaurants, agricultural waste and green waste out of Davis area landfills.  As the material decomposes, CleanWorld's BioDigester technologies capture methane and other greenhouse gases and produce significant quantities of renewable biogas and electricity to power campus buildings.  The end product includes organic soil amendments and fertilizers for area farms.
The UC DAVIS READ facility is particularly significant for the University – representing successful commercialization of a technology developed and patented by Dr. Ruihong Zhang, an internationally prominent UC Davis researcher and professor.
One notable innovation – the UC DAVIS READ facility will sit atop land formerly used for the UC Davis landfill.  Having been closed to traditional waste disposal, the landfill is being used to showcase new land use alternatives and adaptive reuse principals for the community's benefit.  Biogas produced from the BioDigester will be combined with gas captured from the landfill — generating 1 MW of renewable electricity to power campus buildings – enough to power nearly 1,000 homes for a year.
"Widespread establishment of these facilities and cultivation of the valuable partnerships we have, such as the one with UC Davis, shows CleanWorld is continually proving themselves to be the North American leader in Anaerobic Digestion," said Shawn Garvey, CleanWorld's Vice President of Communication and Affairs.
The UC DAVIS READ facility will also reduce greenhouse gas emissions by 13,500 tons annually, as well as produce over 4 million gallons of fertilizer and soil amendments – enough to provide low cost, natural fertilizers for 145 acres of California's farmlands every day.
CleanWorld is the North American Leader in Anaerobic Digestion.  The UC DAVIS READ facility represents the company's third commercial facility in 15 months. CleanWorld's BioDigesters are pre-fabricated, value-engineered, and modular-by-design, and require no additional water as do many AD facilities – meaning the system is less expensive,significantly shortens construction time and has a much smaller footprint.  The company has the most active Anaerobic Digester technology of any company in the United States and its fuel is the only commercially available negative-carbon fuel in California.
"We are excited to bring this technology back to Davis in the form of a fully operational facility, especially since it was developed by Davis' very own Dr. Zhang," Garvey said. 
The UC DAVIS READ facility is expected to begin producing electricity for the UC Davis campus by December.
About CleanWorld
CleanWorld – the North American Leader in Anaerobic digestion – provides businesses and communities with cost-effective solutions for converting organic waste to renewable energy, soil enhancement products and other valuable byproducts.  The company bases its waste recycling systems on a proprietary solution using anaerobic digestion, a technology that converts waste to renewable energy and other valuable byproducts through a biological system with a mix of naturally occurring bacteria.  CleanWorld currently offers scalable, affordable and flexible anaerobic digestion technologies for converting a wide variety of organic waste materials into high-quality biomethane, marketable bio-based products and clean water. www.cleanworld.com.
Project Partners
Financing provided by Synergex, California Energy Commission, CalRecycle, California Office of State Treasurer, and the U.S. Department of Energy.  Key project partners includeOtto Construction and University of California, Davis.   Additionally, Carson Development Company, Peabody Engineering, TSS Consultants, Regatta Solutions, Capstone Turbine Corp. and Frank M. Booth have played key roles in the development of the READ facility.
Category