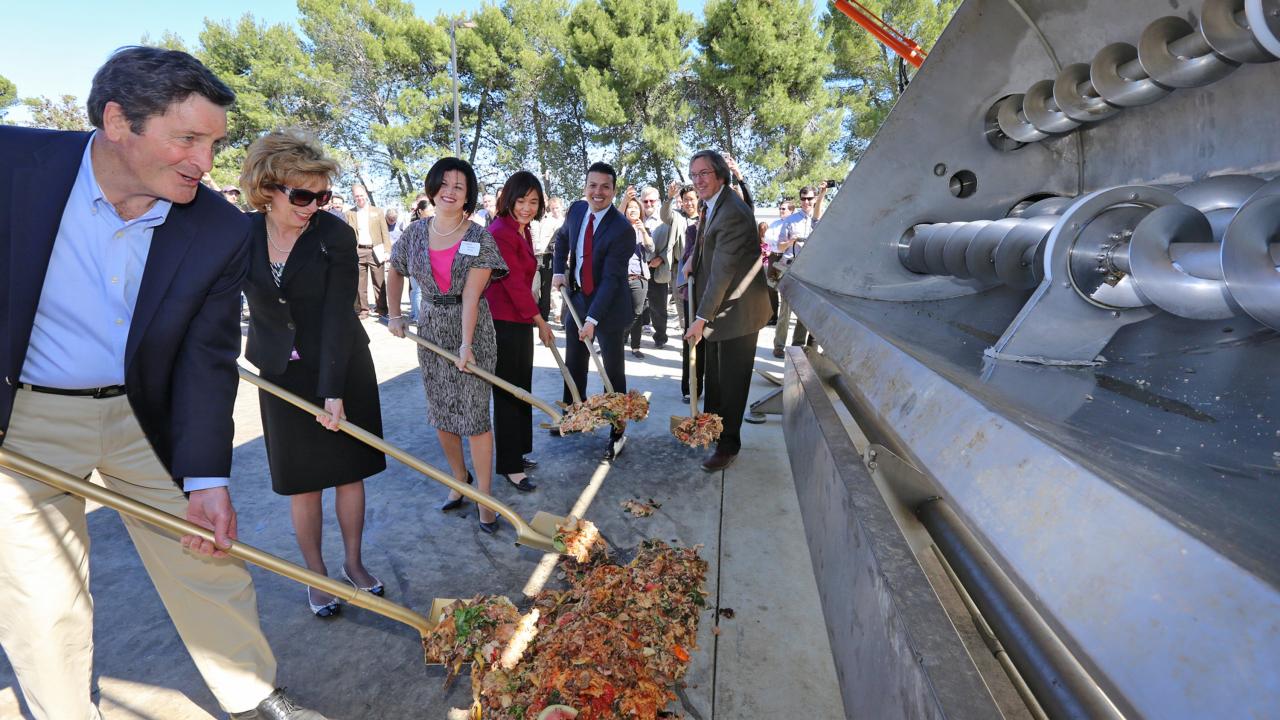 Congratulations to Dr. Ruihong Zhang, whose Renewable Energy Anaerobic Digester was officially unveiled on April 22.  The Davis Enterprise reported on the event, which was attended by the Chancellor, the Dean, and State Representative John Garamendi among many others.  Read coverage of the event from the Enterprise and from UC Davis News.
At the unveiling, Professor Zhang gave the following speech:
"Today we have a focus on the renewal energy and biofertilizer created from garbage and waste by using new technologies. The new anaerobic digestion technology used in the UC Davis Biodigester facility will make our food and environmental systems more sustainable.   
"The new anaerobic digestion technology is called High Rate Biodigester. It is originally developed in my lab at UC Davis. Over a ten-year period of time, we studied, tested, proved and demonstrated the new technology at lab and pilot scale.  Then, we worked effectively with CleanWorld team on the technology transfer and commercial development.  The High rate biodigester uses efficient microbes and well-engineered and optimized processes.  It is capable of converting a variety of organic waste, such as food and animal waste, into biogas energy and biofertilizer products.  As you can see in the UC Davis Biodigester facility, in addition to efficient microbes, state of the art equipment,  process automation and control, and data acquisition and analysis system are also used. It is truly exciting to see the technologies developed in my lab being applied and used in large, real projects and solving the real world problems, especially for our university.   
"Many of my colleagues and students have been involved in this endeavor of technology development and application. We have received tremendous support from several government agencies, including CEC, Calrecyle and Department of Energy, companies and many individuals both on and off campus. Development of UC Davis Biodigester project is a complex process and many people provided vision, leadership, talents, resources and worked very hard as a team. Particularly by teaming with Cleanworld, we have made the UC Davis Biodigester facility a reality. Besides successful technology development and commercialization, this is also a great example of successful education, which is well demonstrated by my former graduate student, Dr. Josh Rapport, who is serving as Vice President of CleanWorld.  
"I want to take this opportunity to thank all of those people who have contributed to the success of my research and teaching programs, technology transfer and successful development of UC Davis Biodigester facility on our beautiful campus. I see this facility will be a great platform for us to continue to innovate, conduct research and develop and apply world changing technologies and provide education. Thank you very much for your support."
Category