A collaborative food-safety project headed by UC Davis has been selected for funding by the U.S. Department of Agriculture (USDA). The proposal, titled "An Integrated Approach to Eliminate Cross-Contamination During Washing, Conveying, Handling and Packaging of Fresh Produce," will receive $4.751 million over the course of five years.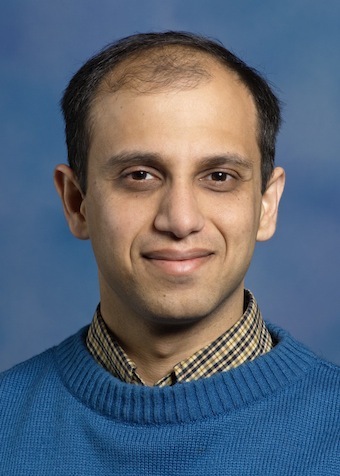 UC Davis, as lead institution, has partnered with Rutgers University and Drexel University. The UC Davis team will be headed by Nitin Nitin, an associate professor in the departments of Food Science and Technology and Biological and Agricultural Engineering; Glenn M. Young, also in the Department of Food Science and Technology; Ian M. Kennedy, a professor in the Department of Mechanical and Aerospace Engineering; and Gang Sun, a professor in the departments of Chemical Engineering and Materials Science and Textile and Clothing.
The project will focus on reducing cross-contamination during the washing, handling and packaging of fresh produce: a process which, due to traditional practices, often introduces critical risk factors associated with food-borne illness and major disease outbreaks. The project team food microbiologists, engineers, food chemists and process modelers will develop novel procedures and technologies designed to identify and minimize such risk factors.
The research plan will explore enhanced technologies for several key areas. These include the continuous sanitation of food contact surfaces, to reduce the transfer of bacteria from those surfaces to fresh produce; and alternative sanitization technologies designed to reduce the microbial load in wash water, while still preserving the quality of fresh produce. The threshold level of oxidative stress in bacteria will be quantified and correlated, with the same goal of reducing wash water microbial load.
By quantitatively measuring and mathematically modeling the role of washing conditions on the attachment of bacteria to fresh produce during the washing phase, the project team will be able to provide guidelines for the design of next-gen produce-washing equipment, along with flow conditions during the washing of produce. The project also will focus on the rapid detection of pathogens in wash water and fresh produce, by synergistically combining nanophotonics and bacteriophages in order to develop a novel point-of-use device. Success here will enable the highly sensitive detection of wash-water pathogens and produce samples, without the enrichment or extended culturing of bacteria.
The project's outreach goals will be met by developing a comprehensive educational program designed to train current and future students in interdisciplinary topics related to food safety, water and surface chemistries, novel processing technologies and biosensors. Finally, the research teams will collaborate extensively with industrial partners, for both the validation and transfer of enhanced technologies in food safety.
The USDA's Agriculture and Food Research Initiative is charged with funding research, education and extension grants that address key problems of national, regional and multi-state importance in sustaining all components of agriculture: farm efficiency and profitability, ranching, renewable energy, forestry, aquaculture, rural communities and entrepreneurship, human nutrition, food safety, biotechnology and conventional breeding. The AFRI Safety Challenge Area promotes and enhances the scientific discipline of food safety, with the overall aim of protecting consumers from microbial and chemical contaminants that may occur during all stages of the food chain, from production to consumption.
More information and coverage can be found at nifa.usda.gov and at The Sacramento Business Journal.
Category