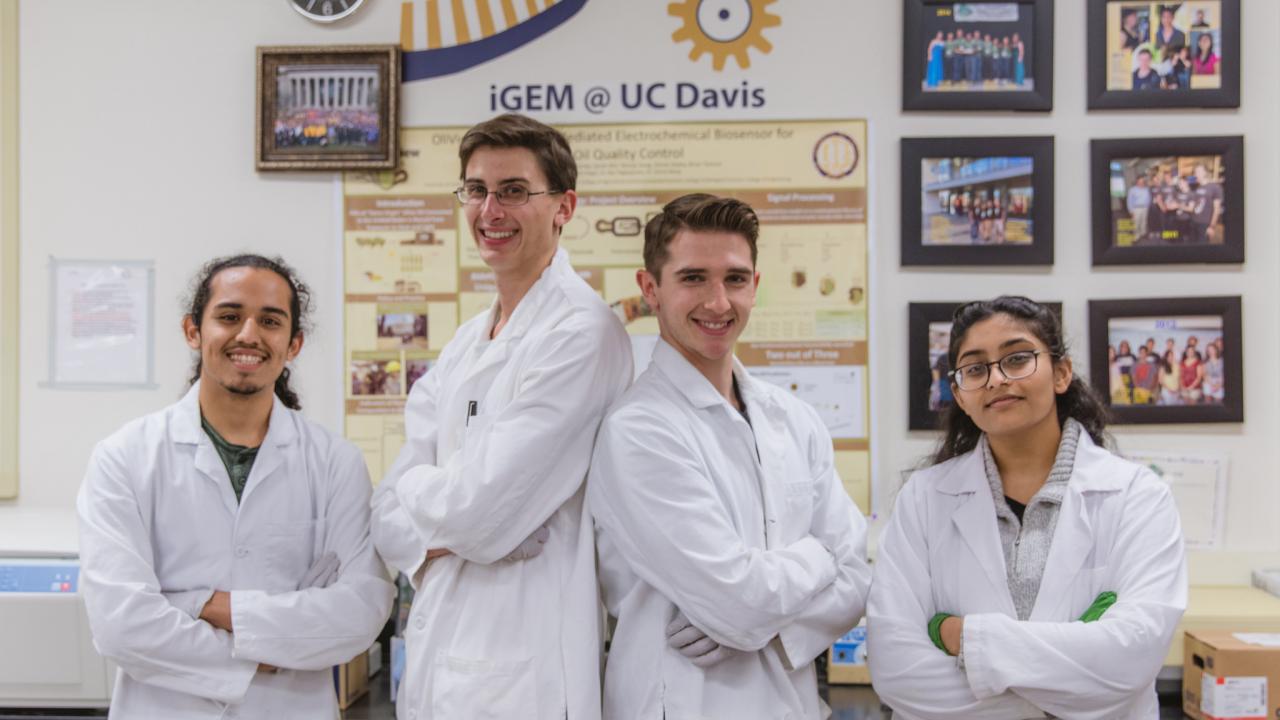 The 2018 International Genetically Engineered Machine (iGEM) competition results are in and Cenozoic, a team made up of members from the departments of Biological and Agricultural Engineering and Molecular and Cellular Biology, was one of only seven undergraduate teams in the United States to win a gold medal. In addition, the team won "Best Measurement" award and were nominated for "Best Presentation" in the undergraduate division.
Team Cenozoic member and fourth-year Biological Systems Engineering major, Achala Rao, described the iGEM competition as the  "world's premier international synthetic biology competition."
This year, over 4000 students competing in 340 teams, traveled to Boston, Massachusetts to showcase the work their team did over the previous summer in designing, building, and testing a genetic device that attempts to solve a real world or research based problem using synthetic biology.
The competition also required the use of integrated human practices to analyze how a team's "device or idea could be used, or implemented, in the real world by determining how others, outside of the synthetic biology community, might react to their proposed solutions," according to Achala.
Achala Rao and fellow team members Ares Torres, Jolee Nieberding-Swanberg, Daniel Graves, and Jacob Lang form Cenozoic. They hail from two departments, Biological and Agricultural Engineering and Molecular and Cellular Biology, and are involved in three different majors: Biological Systems Engineering, Genetics and Genomics, and Biochemistry and Molecular Biology.
The interdisciplinary collaboration between engineers and biologists served the team well as they combined different perspectives, expertise, and backgrounds throughout the project.
Achala described team Cenozoic's gold medal winning device as a "mammalian cell-based bioassay for environmental toxicology which measures the potential effect of chemicals on mammalian cell stress."
The device draws inspiration from a Northern Californian Native American tribe who have recently experienced increased instances of cancer, miscarriages and other illnesses.
The bioassay created by Cenozoic is a proof-of-concept design to give researchers better insight as to whether or not specific stress pathways have been activated in response to either environmental or cytotoxological relevant concentrations of chemicals, or both.  This will, in turn, help researchers and scientists gather valuable information about the environment of the tribe and the potential effect that chemicals may be having on the people and the environment.
Congratulations to Cenozoic not only for winning gold at this prestigious event but also helping to, according to the iGEM site, "push the boundaries of synthetic biology by tackling everyday issues facing the world."
Edit: Genome Center faculty Marc Facciotti (Dept. of Biomedical Engineering) and Justin Siegel (Dept. of Chemistry) and engineer Andrew Yao (Dept. of Biomedical Engineering) were the team's primary advisors. The team worked out of the TEAM Molecular Prototyping and BioInnovation Lab.
Category