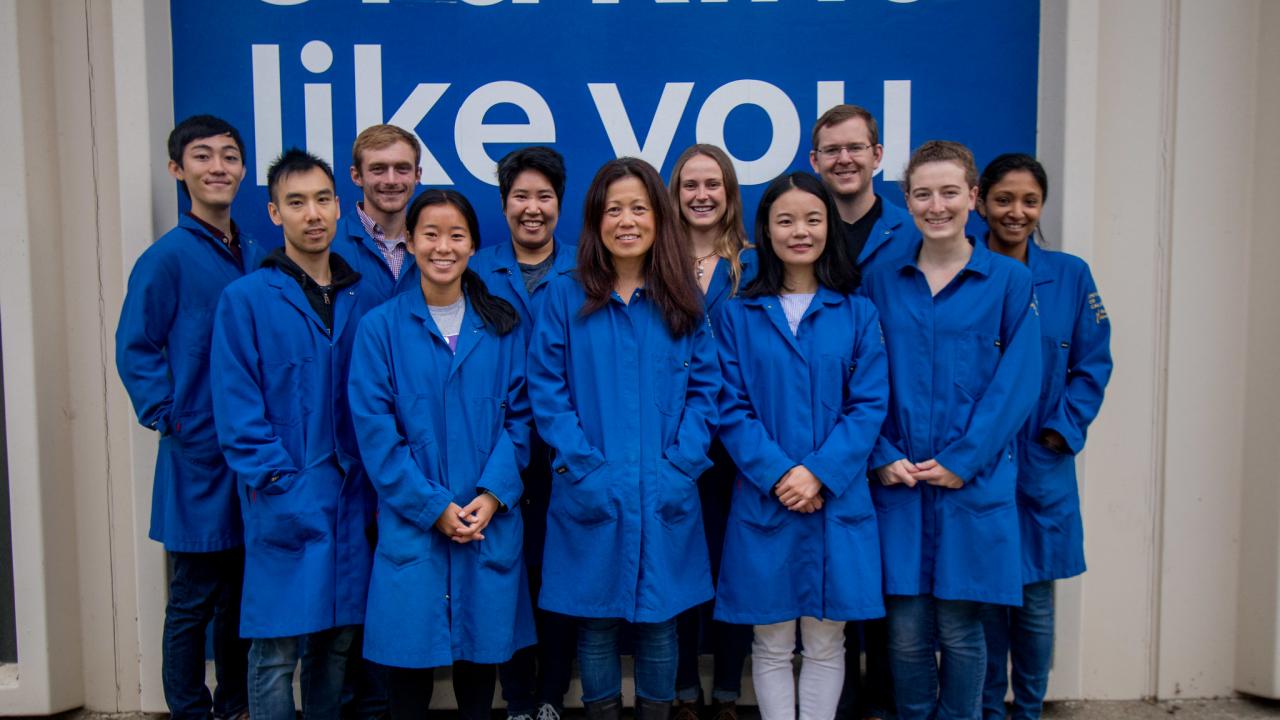 Biological and Agricultural Engineering associate professor Tina Jeoh is an innovative researcher, passionate mentor and an advocate for women in STEM. Since joining the BAE department in 2008, she has been a leader in bioconversion for biofuels and microencapsulation of bioactives—all with an emphasis on scaling for industrial production.
"The core thing that drives me is taking the resources that we have and finding ways to add value to them, particularly the waste," she said. "I think that's going to be increasingly important to the sustainability of our planet."
Jeoh's main focus is in biofuels. Cellulose, a compound abundant in plants and food waste, offers great potential for advanced biofuels because it can be broken down into useful soluble sugars by cellulase enzymes. However, it's difficult and costly to use enzymes and the reactions are not well understood, so Jeoh and her lab work to understand mechanisms by which cellulose is broken down by cellulases. "That way when we go to scale," she explained, "we can make informed, rational decisions about how much enzymes are actually needed and why and how we run these processes."
Preserving and delivering bioactives
Her other research focus involves microencapsulation of bioactives such as microbes, nutraceuticals and enzymes. In the process, the bioactives are encapsulated in a "matrix" of cross-linked alginate microcapsules, or CLAMS. The structure preserves and protects the bioactives and allows for controlled release, as it is engineered to only dissolve in certain solutions or parts of the body, depending on the application.
What makes her lab's work on microencapsulation unique is its focus on scaling. For example, since microbial cultures are mostly water, they are difficult to preserve and expensive to transport. They therefore work with spray-drying encapsulation  methods and technologies that can be used inexpensively and accessibly at large, industrial scales by turning the bioactives into solids. Because of this, her lab has received a lot of industry funding in this area for applications as diverse as food and feed, cosmetics and bacterial delivery for sustainable agriculture.
"It's this elaborate, gazillion piece puzzle and we work on a few pieces of it," she said. "At the end of my career, I want to be able to point to a part of the picture and say, 'we put this section together.'"
A focus on mentorship
To Jeoh, mentorship is one of the best and most important parts of her job. "I love to see my students go on and do big things," she said. "There's an eternal optimism that comes with working with students—there's a kind of 'no idea that's too crazy' feeling. I'm happy to contribute."
Part of this is her work is done through outreach. She directs the STEM For Girls program, which aims to spark or maintain interest in STEM for 10-12 year-old girls in the community through immersion and mentorship. Volunteer role models lead a day-long immersion into STEM on campus that involves tours, workshops and hands-on activities for 50-60 girls from underrepresented groups. The program, which is planning for its 10th year in 2020, is now a part of the Women's Resource and Research Center's regular programming.
"If we give the girls enough inspiration and good role models, they might consider STEM for just a little bit longer," she said.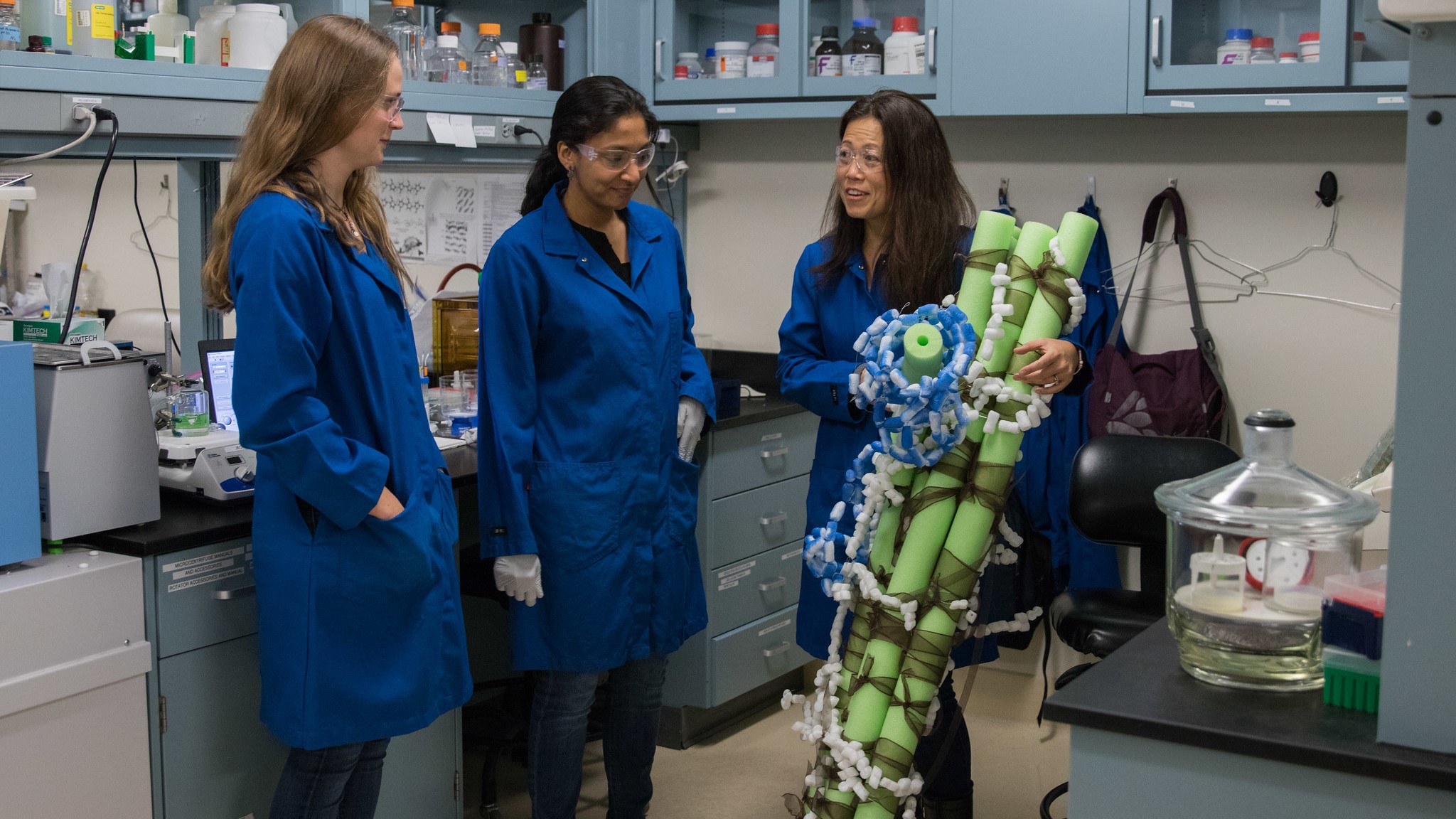 An unexpected career path
As an undergraduate at Virginia Tech, Jeoh was compelled by biological and agricultural engineering's emphasis on saving the planet, sustainability and converting agricultural waste to usable products—ideas that still drive her. She received her B.S. and M.S. in biological systems engineering at Virginia Tech and became especially interested in converting agricultural waste to biofuels.
"I came from a very urban upbringing, so it was not a choice that was very obvious for me," she said. Her non-obvious choice continued to pay off, though, as she took it to Cornell University to earn her Ph.D. in biological and environmental engineering.
She joined UC Davis in 2008 as one of the Energy for the Future faculty after completing postdoctoral research at the National Renewable Energy Lab (NREL) in Colorado. Since arriving on campus, she has received the prestigious NSF CAREER award in 2011, was named a UC Davis NSF ADVANCE Scholar in 2014 and was named a Chancellor's Fellow in 2016. In her spare time, Jeoh spends time with her family and enjoys skiing.
"I love what I do and I love being at a university a lot," she said. "I collaborate with a lot of different people and it's just so easy to get almost overly involved in different projects because there is so much positivity, optimism and drive at UC Davis to solve important and interesting problems."
Category
Tags