Alumni Spotlight: Arturo Lara López '80
Few people have had careers in higher education as distinguished as Dr. Arturo Lara López '80. From transforming the University of Guanajuato to serving as the first Secretary of Innovation, Science and Higher Education, Lara López has made his mark on the State of Guanajuato through almost 40 years of service and leadership in academia and government.
Much of Lara López's journey began at UC Davis in 1977. While searching for doctoral programs, he visited campus and met his future mentor, the late professor emeritus of Biological and Agricultural Engineering, William Chancellor. He encouraged him to join what was, at the time, the agricultural engineering program to pursue his interest in designing and developing field machinery for Guanajuato's agricultural industry.
Over the next three years, Lara López met many friends and colleagues while absorbing UC Davis' spirit of collaboration and innovation, all while working with Chancellor to develop a two-wheel tractor to mechanize small landholder farming operations. After completing his degree in 1980, he became a faculty member at the University of Guanajuato, where he continued his research and his relationships with Chancellor and UC Davis.
"I always find help with my research projects from my partners at the College of Engineering," said Lara López, who has received many visitors and delegations from UC Davis over the years. "Still today, I feel a lot of confidence to go to faculty and ask things. I work very well with them and in support of them."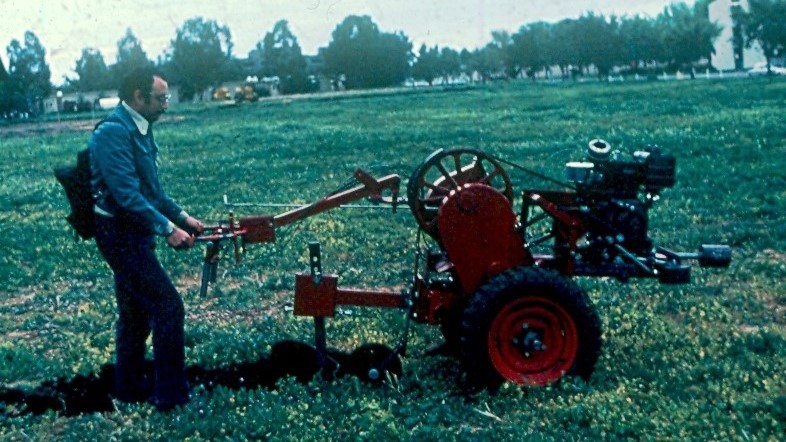 Lara López took the lessons he learned at UC Davis to heart as he began to rise the through ranks. He was named General Secretary in 1991 and became General Rector, or university president, in 2003. During his eight-year tenure as General Rector, he transformed the university, turning it into a campus-based system modeled after the University of California and expanding programs, increasing enrollment and more than doubling the budget.
"I was very well-prepared at UC Davis for life, not only in research and teaching, but also in the lessons I learned about the atmosphere of creativity and friendship," he said. "I tried to transplant all of those things in my university."
The other part of his career has focused public service to the scientific community of Guanajuato. In 1996, he spearheaded a proposal to create a state council for science and technology—a board of distinguished scientists that would identify local problems and fund proposals to help solve them. When the council became a reality, Lara López served as its first director general. Twenty years later, he returned to government and helped form the state's Ministry of Innovation, Science and Education. He served as its inaugural secretary from 2016-18.
Lara López has been honored on multiple occasions for his distinguished career. In 2001, he received the Emil M. Mrak International Award from UC Davis and the Distinguished Engineering Alumni Medal from the College of Engineering. He is also a member of the Mexican National Academy of Engineering and was the recipient of the Mexican Society of Mechanical Engineer's annual award in 2007.
Though he is officially retired, he is keeping busy. He teaches one course at the university, runs a small farm and serves on various state committees, all while starting his own engineering company.
"UC Davis really contributed to my career," he said. "I really learned the importance of a creative atmosphere, making relationships and doing new things. I still today feel UC Davis very close to my activities, my career and my home."
Primary Category