BAE Alumna Jennifer Payne‐Strimaitis Talks About Her Career Post Graduation
Transitioning from college life to a career is rarely the easiest move to make in life. After graduation there is a world of possibilities, but often times there are few roads to walk down and almost never any doors held open. It is something all graduates eventually have to go through and during the Winter Quarter Seminar Series' first event, Jennifer Payne‐Strimaitis, discussed how she built the road to her career.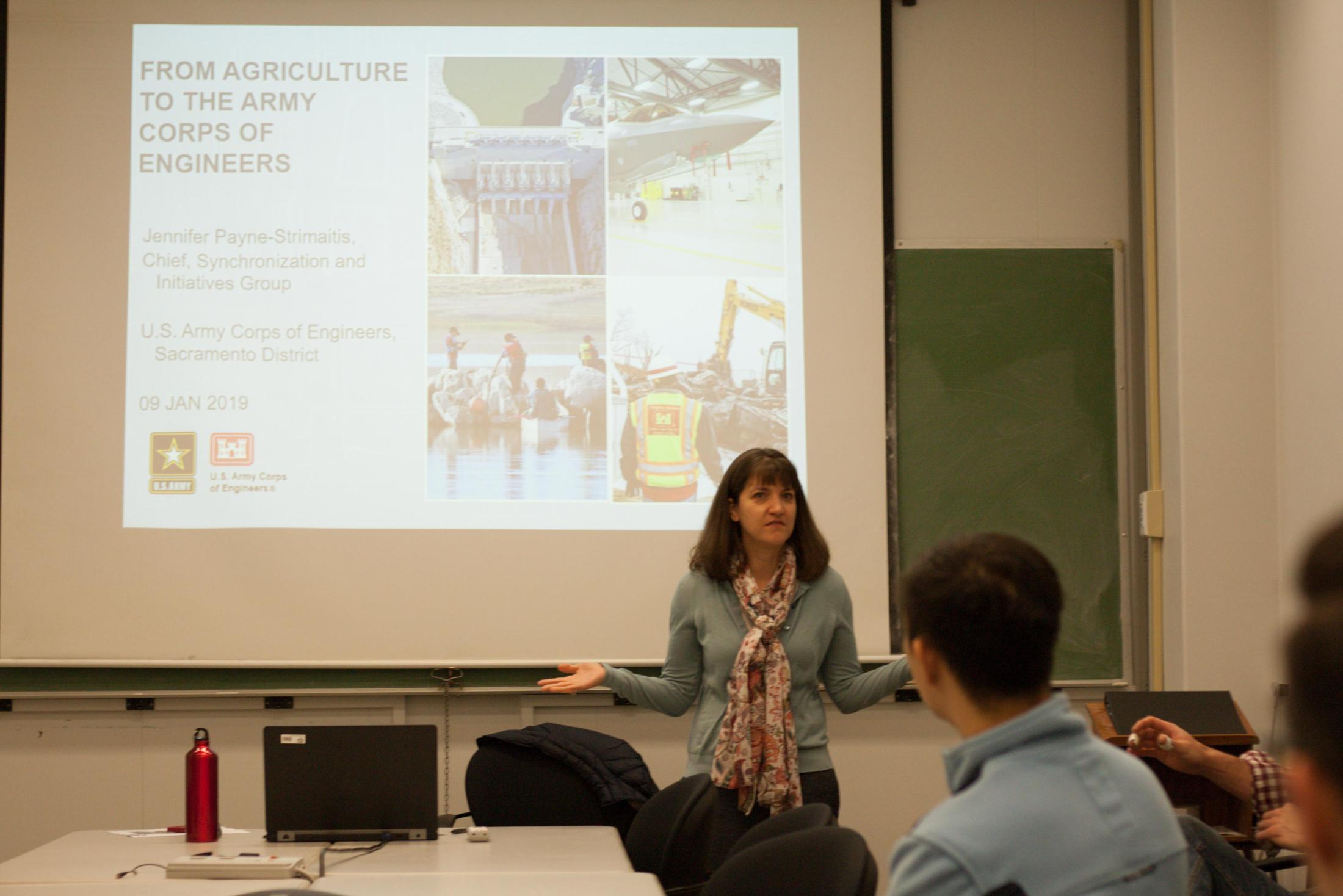 Jennifer's story begins in the sunbaked tomato fields surrounding Davis. Working with Dr. Slaughter, she developed a Lectin Assay which lead to a patent for the detection and removal of chitinous material in a biological sample. It was during her work as an EBS major that Jennifer developed the problem solving and critical analysis skills that would become vital in her career.
Of her time here, Jennifer said she learned the "foundation and tools to solve any problem; it doesn't matter what the problem is."
After graduation, Jennifer found a job working for the Sacramento Division of the Army Corps of Engineers. The Army Corps of Engineers are basically, "the engineers for the nation and federal government," she said. When something needs to be built using public funds, the Army Corps of Engineers is almost certainly involved. And no, Jennifer said, "you don't have to join the Army to be in the Army Corps of Engineers."
Building something in today's world, especially for the public, goes far beyond physical design and construction. Jennifer used the example of dam modernization, such as the Isabella or Folsom Dams. Not only must the structure be blueprinted and assembled, there are a myriad of concerns and considerations that must be taken into account before, during, and after construction. The dam might affect certain species of wildlife, different populations of people, or culturally sensitive areas such as ground sacred to indigenous peoples.
Another example of something Jennifer did early in her career as an Environmental Engineer was her work at Beale Air Force Base. At the base, she had to develop a conceptual map of the area. The map overlaid historical, topographical, and LiDAR data to show, as accurately as possible, the potential locations of exploded and un-exploded military ordinances.
The data she collected helped residents "get a better sense of where the risk was," she said. This helped inform residents' decisions about planting, building, and etc.
From working at the Presidio of San Francisco to find chemical warfare test vials to driving through Sequoia and Kings Canyon National Parks mapping fuel storage, Jennifer has done a wide variety of projects.
According to Jennifer, the Army Corps of Engineers has the "whole gamut of career fields" which "work and support the projects."
Though Jennifer's story is just one among many, it highlights the many roads that are paved by EBS majors after graduation. Visit Jennifer's LinkedIn page for more details about her professional experience.
Next week's seminar features another BAE Alumnus, Dr. Matthew Summers. Dr. Summers will discuss the thermochemical biorefinery at West Biofuels and Research Center on Wednesday 16 January at 2:10pm.
Primary Category
Secondary Categories
Tags