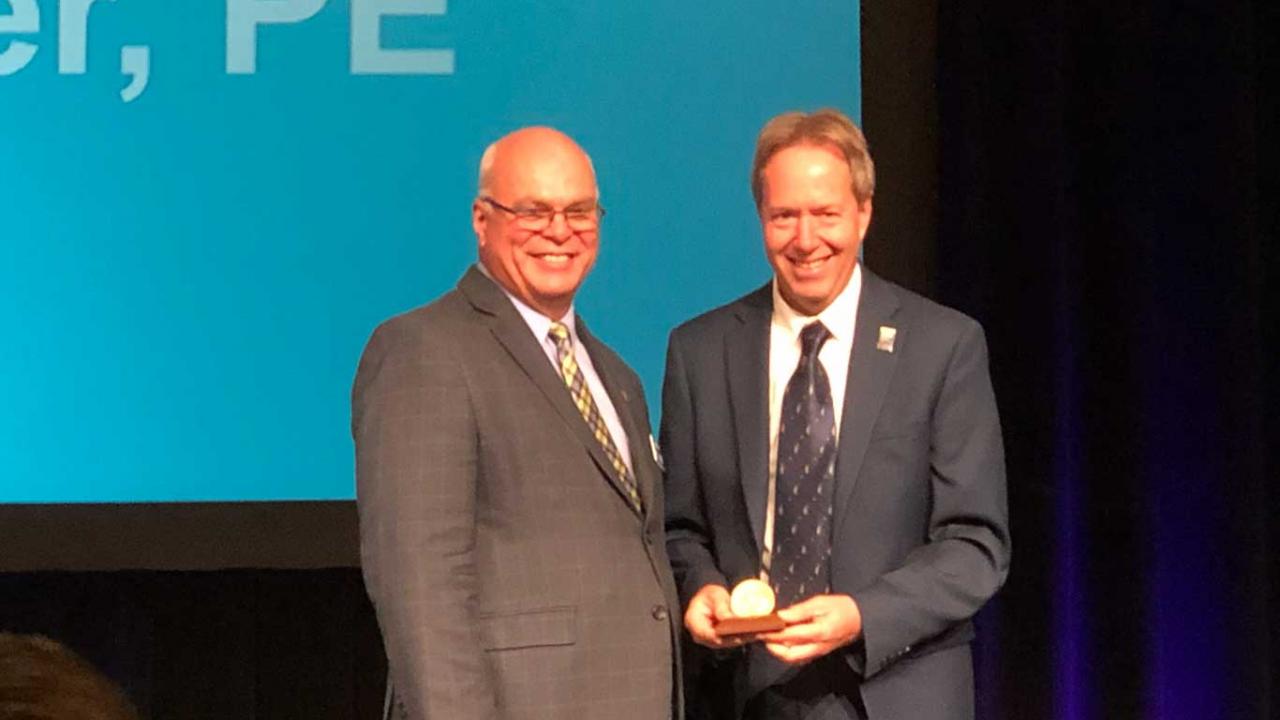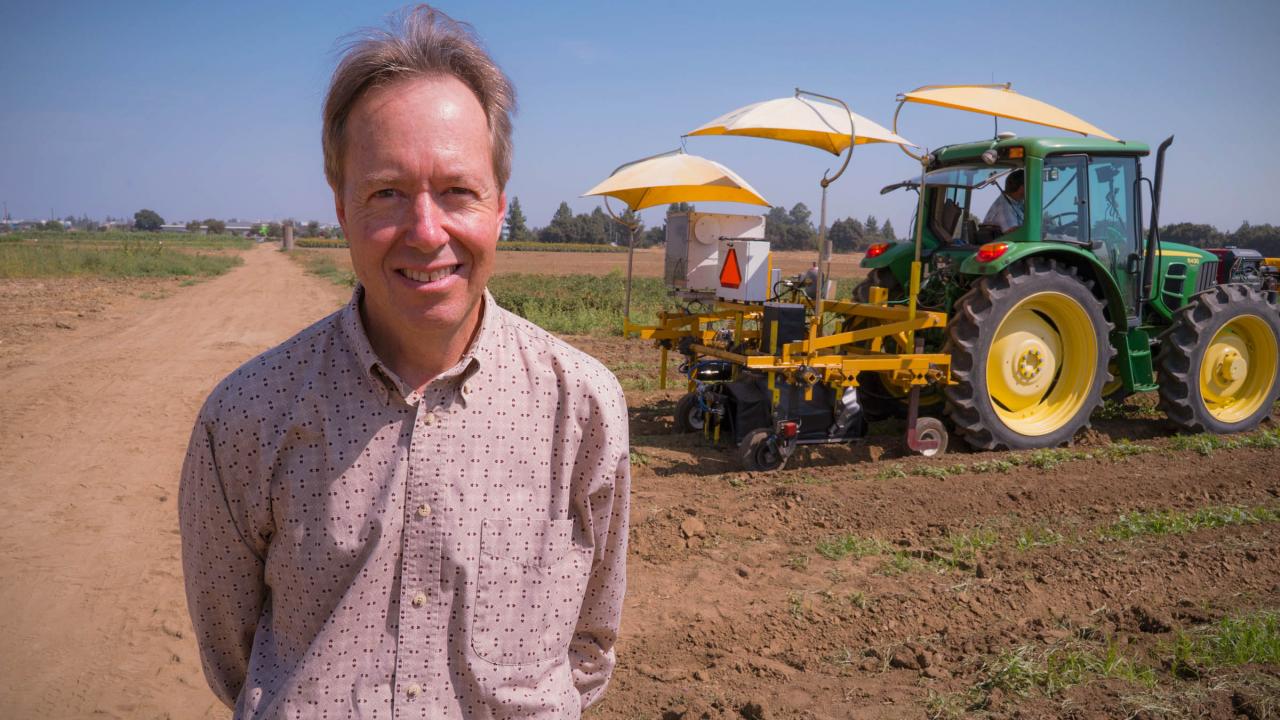 Since 1932, the American Society of Biological and Agricultural Engineers (ASABE) has selected one recipient, if any, for the Cyrus Hall McCormick-Jerome Increase Case Gold Medal. The medal is awarded to those who show "exceptional and meritorious achievement in agriculture that has resulted in new concepts, products, processes or methods that advanced the development of agriculture." This year's medal has been awarded to Biological and Agricultural Engineering Professor David Slaughter.
Slaughter joins a distinguished list of winners such as the founding dean of the College of Engineering--and for whom Bainer Hall
was named--Dr. Roy Bainer and Dr. D. Ken Giles, the 2015 recipient and current vice chair of the Department of Biological and Agricultural Engineering.
"This award is an outstanding recognition of Professor Slaughter's creative brilliance and the unique and lasting contributions he has made to the profession, the industry, and the public.  The honor bestowed on him reflects his profound commitment to the educational, research and outreach missions of the University and the remarkable innovation, impact and significance of his work," said Department Chair Bryan Jenkins.
Most recently, Slaughter has been involved in UC Davis' Big Ideas with his SmartFarm initiative.
SmartFarm is a concept for the farm of the future that will develop new innovative smart machines, smart sensing of the environment, smart plants and smart farming methods that will lead the way forward for world food security and the environmental, economic and social sustainability of the food production system by the year 2050.
Professor Slaughter is known around the world for his innovative research in agricultural robotics, machine learning (automation and control) for agricultural machines, nondestructive sensors, instrumentation, and the food supply chain. Some of his most notable research efforts have surrounded the development of sensing systems. These non-destructive and non-invasive sensing systems are used to determine the quality, and other characteristics, of agricultural commodities.
He is the inventor of the concept of the robotic cultivator and a leader in the development of one of the first robotic fruit harvesting systems. Additionally, he has created automation technologies for thermal micro-dosing of lethal non-pesticide treatments; developed technologies based upon machine vision, X-ray, and RTK-GPS; developed a robust, on-farm system for plant species phenotyping in tomato and lettuce; pioneered visible and near-infrared (NIR) sensor technologies; and established sensor tools for a number of agricultural plants.
Professor Slaughter earned his bachelor's degree from UC Davis in 1982 as an Agricultural Engineering major before going on to earn a master's at North Carolina State University and a Ph.D at the University of Florida, Gainsville. In 2012, Professor Slaughter furthered his education by earning a second master's degree in Statistics from CSU East Bay.
The award was presented to Professor Slaughter at the ASABE Annual International Meeting in Boston on July 10.
The Department of Biological and Agricultural Engineering hopes that you join us in congratulating Professor Slaughter on this achievement.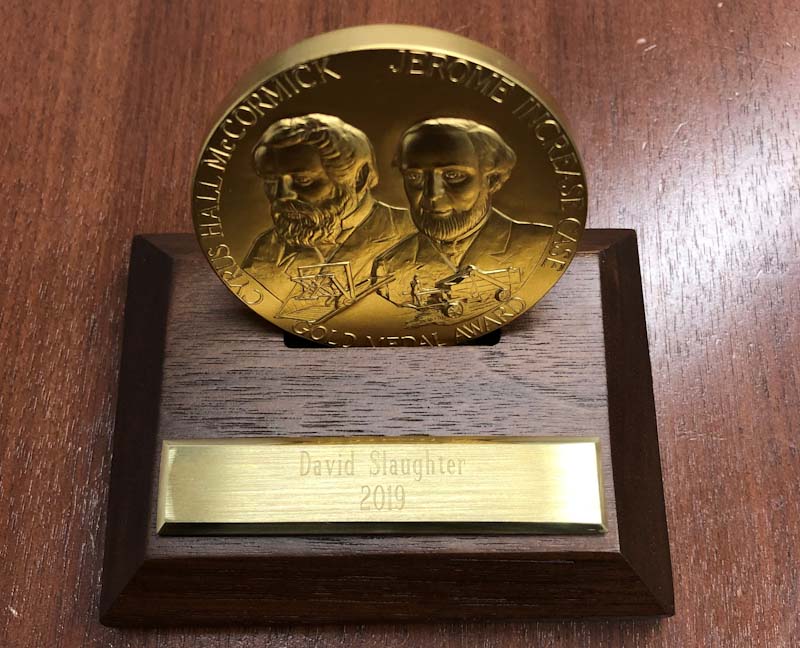 Category
Tags