Tina Jeoh Receives Danisco Foundation Scientific Excellence Medal
Biological and Agricultural Engineering (BAE) Professor Tina Jeoh received the 2021 Danisco Foundation Science Excellence Medal from International Flavors and Fragrances, Inc (IFF). Every year, the award recognizes one scientist for their scientific and operational excellence and a remarkable track record of accomplishments in research and collaboration with industry.
With the recognition, Jeoh received a $35,000 award and was invited to give a talk to IFF scientists at the Danisco Foundation Science Awards on September 20 in Wilmington, Delaware alongside the other winners from 2021 and 2022.
"I'm very grateful to have been collaborating so fruitfully with IFF scientists and engineers," she said. "Several students from my lab received valuable training and mentorship in addressing 'real world challenges' through working with IFF. I am also grateful for the award money, which will be used to support new and existing students in my group."
Jeoh was specifically recognized for her innovative cross-linked alginate matrix (CLAM) microencapsulation technology. The CLAM technology encapsulates bioactives like microbes and enzymes in dry, finely-sized microparticles and preserves and protects them for a controlled release. In other words, the structures only dissolve and release the particles in certain solutions or parts of the body, depending on the application. In collaboration with IFF scientists, Jeoh and her team expanded the CLAM technology to particle coating, developing a new "CLAMshell" technology.
"The CLAMshell project demonstrated mechanical improvements resulting in reduced dusting and potential for controlled release," her award citation said. "It provides the industry with new options for producing stable and larger granules suitable for controlled release delivery of industrially important bioactives such as enzymes, microbes and volatile fragrance compounds, with relevance to many businesses."
Jeoh was also recognized for her dedication to applied/practical research without losing sight of experimental work to investigate the fundamentals. Her lab has received numerous grants from industry in this area, and her work has been used in food, cosmetics, bacterial delivery and sustainable agriculture.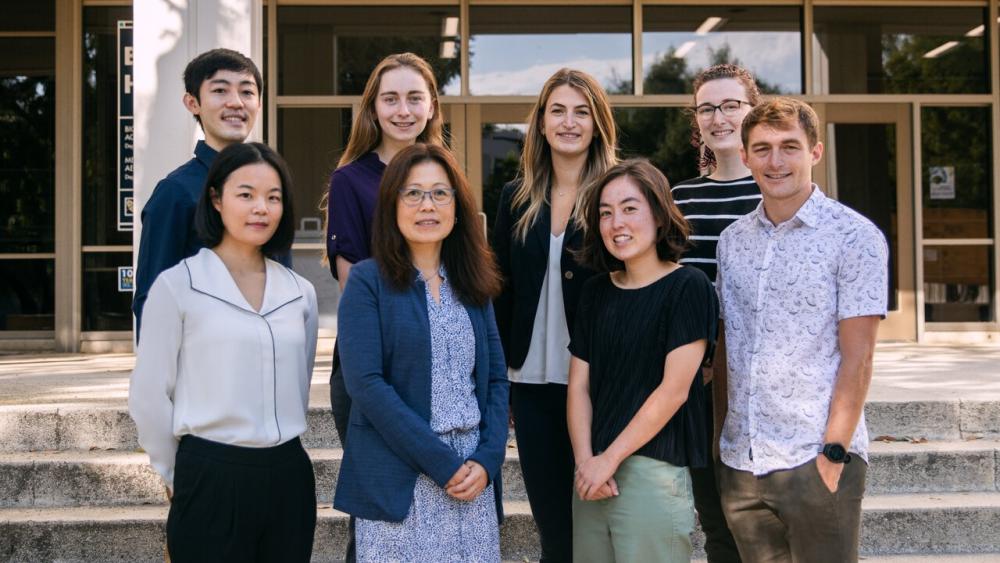 Jeoh earned her B.S. and M.S. in biological systems engineering at Virginia Tech and her Ph.D. in biological and environmental engineering from Cornell University. She completed a postdoc position at the National Bioenergy Center at the National Renewable Energy Lab (NREL) before joining UC Davis in 2008. Since, she has been the recipient of the prestigious NSF CAREER Award, was named a UC Davis NSF ADVANCE Scholar in 2014 and a UC Davis Chancellor's Fellow in 2016.
In the BAE department, Jeoh serves as the chair of the biological systems engineering graduate program and teaches undergraduate classes in properties of biological materials, mass transfer and kinetics in biological systems and bioreactor design, as well as a graduate class in polysaccharide surface interactions. She also leads STEM for Girls, an outreach program that brings local 10-12 year-old girls to UC Davis for a full-day immersion experience in STEM.
International Flavors and Fragrances, Inc. is an international company that specializes in "sensorial experiences" in the food, beverage, health and bioscience industries.
Primary Category
Tags