Alumni Spotlight: Kia Canning '20
Kia Canning graduated with a degree in biological systems engineering in spring 2020 and has already become an important part of the one of the next big things in agriculture.
Canning is a hardware project engineer at Monarch Tractor, a startup company in the Bay Area that has developed the world's first all-electric, driver-optional smart tractor. The tractor, which launched in December 2020, has already been named one of World Ag Expo's top 10 best new products and recognized in Fast Company's Best World-Changing Ideas.
Canning joined the company as an intern shortly after graduation before being hired as full-time hardware engineer in fall 2020.
She is responsible for making sure the tractor's electronic parts can withstand the shock, vibration and temperature variations they will encounter in the field. She also deals with a lot of logistics, making sure her team has all the materials to do a build, releasing computer-aided design (CAD) files in a timely manner and coordinating efforts with external collaborators and other teams within Monarch.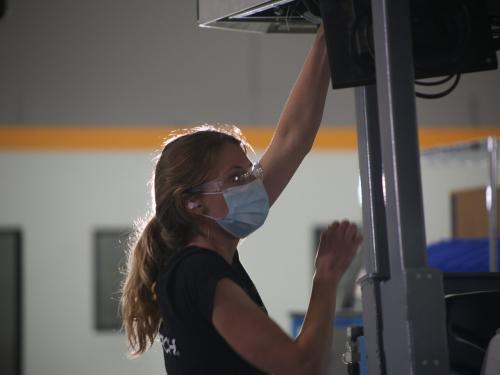 "I love my job because the people make it so fun and special and I get to make each day my own," she said. "I never get tired of doing the same thing because I'm never doing the same thing."
In a diverse and fast-paced role, Canning is grateful for her education at UC Davis and the uniqueness of the biological systems engineering major. She became interested in agriculture during a gap year when she worked on farms in Nicaragua and Peru and never looked back when she returned to UC Davis and found biological and agricultural engineering.
Though it was one of the hardest classes she ever took, she recalls how professor David Slaughter's "Bioinstrumentation and Control" (EBS 165) course taught her how to deal with challenges.
"It kind of humbled me and at the end, I felt confident that I could do things that were hard," she said. "I think that that mentality has served me really well in the workplace."
She later became interested in robotics and got her first exposure to remote sensing—something she works with every day at Monarch—as an undergraduate researcher in assistant cooperative extension specialist Alireza Pourreza's lab.
She also fondly recalls associate professor Stavros Vougioukas' mentorship and support. Vougioukas advised her senior design project and reached out to a connection at Monarch to ask them to sponsor the team. The company was impressed with the project and after graduation, Canning re-connected with them and they offered her an internship.
"Professor Vougioukas was such a great mentor," she said. "He really challenged us and working with him was a huge reason why I got hired at Monarch, so I'm really grateful for that connection and for his support."
After a successful launch, Monarch plans to start shipping its first tractors in fall 2021. As the quickly-growing company moves forward, it does so with a strong UC Davis influence. Canning is one of six current or former biological and agricultural engineering students working at the, including her senior design teammate Ken Zen Ooi.
"Every step of my journey at Davis led me to find Monarch," she said. "I loved my time in BAE and I think that the department shaped me a lot and allowed me to be successful in a place like this."
Primary Category