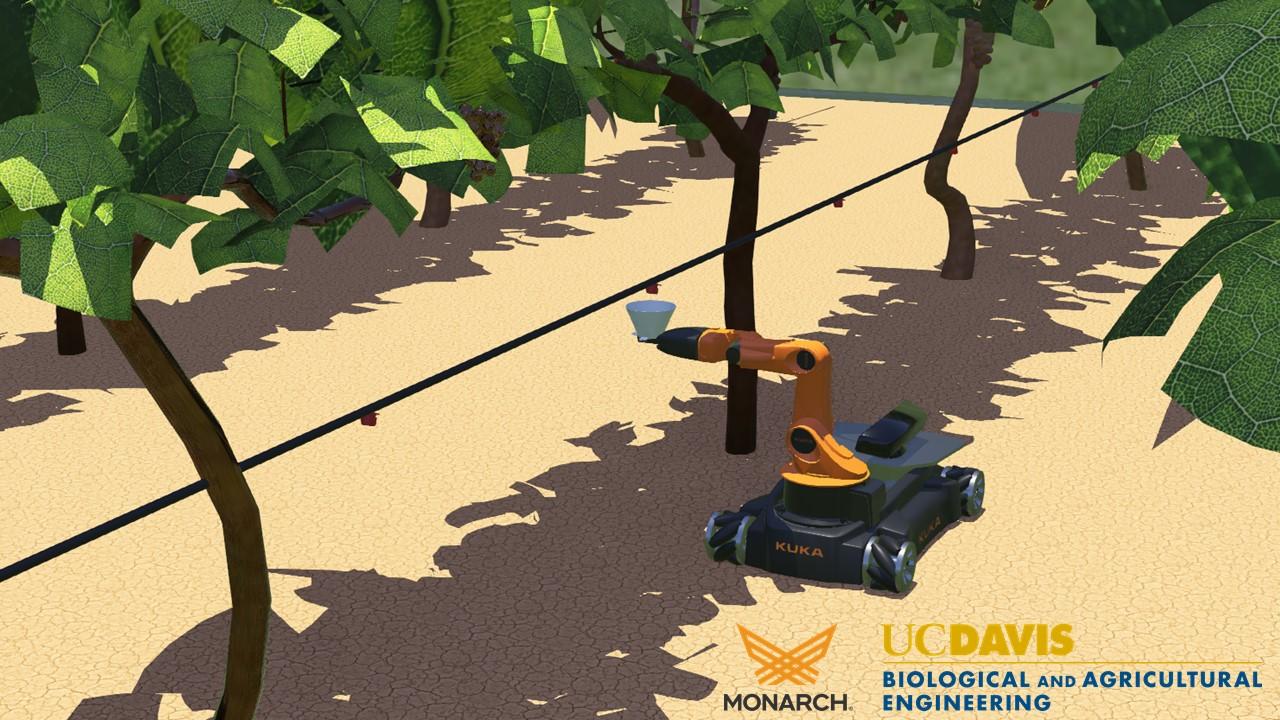 Ten teams of biological systems engineering seniors presented their senior design projects to the public in this year's Engineering Design Showcase. Design Showcase is a capstone of the College of Engineering undergraduate experience and the culmination of three quarters of hard work on senior design projects, where they present the designs they built in teams for real-world clients.
Though they are virtual this year, the projects still showcase the students' innovation in solving problems ranging from renewable energy production and purification to automated "smart" greenhouses and trash bins. You can read more about them below:
"Enhanced Solar Disinfection Using Food Grade Components"
Team: Jose Marquez, Mukhtar Mukhtar, Manu Balakrishna
Faculty Advisor: Nitin Nitin
Poster
Fast and efficient solar disinfection systems, which use UV rays to disinfect water, are key to improving clean drinking water access in third world countries. Using data from Nitin's lab, the team designed a model that combined light penetration in the presence of organic matter, photo activation of food compounds and microbial inactivation to predict solar-assisted disinfection. Their models in MATLAB predict that the design can kill 99% of bacteria in under 30 minutes.
"Smart Bin: Low Cost Technology for Sorting Recyclables"
Team: Eric Zhang, Lucine Grigoryan, Ian Martin, Wayne Costa Martins
Faculty Advisor: Kurt Kornbluth
Poster |  Video  |  Photo
The Smart Bin is a system that can categorize different types of recyclables—specifically plastics, paper and glass—from general waste. Users place their recyclable in the machine, which analyzes it and tells the user which recycling bin it belongs in. Smart Bin not only encourages recycling, but also educates users about where they should be putting their waste.
"Thermoelectric Watering System for Indoor Plants"
Students: Samuel Bailey, Hailey Jackson, Sandra Pena, Aya Suzuki, Audrey Waddle
Faculty Advisor: Stavros Vougioukas
Poster  |  Video
House plants can be difficult to take care of if owners leave home for long periods of time, and many make the mistake of over- or under-watering them to compensate. The team proposed a solution to this by designing an Arduino-controlled, solar-powered system that collects moisture from the air using thermoelectric coolers and dispenses an optimal amount of water into the plant every day.
"Small Anaerobic Digester for Converting Food Waste into Biogas and Biofertilizer"
Students: Ares Torres, Ivan Wongso, Jiaxiong (Shawn) Li, Katie Stephens
Faculty Advisor: Ruihong Zhang
Poster  |  Video
The Small Anaerobic Digester, affectionately known as SANDI, is a standalone biodigester capable of processing 6 lb. of food waste per day. Its small size and efficiency makes it perfect for small communities such as an apartment complex, as the team estimates that one SANDI unit can digest food waste from 10 residents and convert it into biogas and biofertilizer.
"Smart Greenhouse to Inspire Generations to Grow Sustainably"
Students: Ayan Behjat, Taylor Charlesworth, Rylie Siegfried
Faculty Advisor: Bryan Jenkins
Poster  |  Website
The Smart Greenhouse is a proposal for greenhouse in biological and agricultural engineering that will teach students about sustainable indoor farming and vertical farming technology. The design is powered by a photovoltaic system that is functional off-grid and is automatically controlled with microcontrollers, sensors and actuators to foster plant growth. The design also features an aeroponic growth system that efficiently grows plants using less water than conventional farming.
"Autonomous Robot Measurements of Vineyard Drip Irrigation Flow"
Students: Kia Canning, Bennett Evans, Stacia Hendee, Ken Zen Ooi
Faculty Advisor: Stavros Vougioukas
Poster  |  Video
Drip irrigation is critical for efficiently watering and fertilizing vineyards, but emitters can drip at different rates and unevenly water crops. To combat this, the team designed an automated system that measures emitter flow rates in a vineyard to give winegrowers an accurate estimate of irrigation uniformity. The goal is to eventually design a system that can be deployed on an autonomous vehicle in the vineyard to take real-time measurements.
"3-D Printed Biodegradable Mask Created with Extruded PHA Polyester Filament"
Students: Megan Higganbotham, Melinda Littooy, Seerat Randhawa, Julia Ross
Faculty Advisor: Ruihong Zhang
Poster  |  Video
With the massive use of disposable face masks during the COVID-19 pandemic, there is an urgent need for reusable and biodegradable alternatives to keep both people and the planet safe. The team proposed a solution using PHA filament, a biodegradable polyester that can be 3D printed. The team used Solidworks and COMSOL Multiphysics to design a face mask that fits a variety of different faces while remaining FDA-approved.
"Producing Biodegradable Plastics from Hydrolyzed Food Waste"
Students: Maximillian Chen, Derek Galan, Britton Stark, Emily Wang, Francine Yu
Faculty Advisor: Ruihong Zhang
Poster
Though they are much better for the environment, biodegradable plastics are more expensive to produce than their petroleum-based counterparts. The team explored an alternative production method, designing, building and testing a system that used bacteria from the UC Davis Renewable Energy Anaerobic Digester to convert food waste into polyhydroxyalkanoates (PHAs), a type of biodegradable polyester.
"Production System for Fungi and Algae Based (FAB) Burgers"
Students: Jessica Bratahani, Malia Helms, Jazmin Melendez, Nitya Raisinghani, Vu Quach
Faculty Advisor: Ruihong Zhang
Poster  |  Slides
Fungi and Algae-based (FAB) foods offer a potential alternative to meat—particularly beef—due to their high protein content, minimal cultivation space and low carbon footprint, so the team developed a recipe and production system for FAB burger patties. Their results showed that FAB burgers were nutritionally comparable to beef patties while consuming less energy and water and having a smaller environmental impact.
"Biogas Purification System for A Small Food Waste Digester"
Students: Trung Duong, Zach Pritchard, Justin Ho
Faculty Advisor: Ruihong Zhang
Poster  |  Video
Getting from food waste to renewable energy is a three-step process involving microbes turning the waste into biogas and then a separate system converting that into biomethane. The team focused on the final step, designing and modeling a three-tank purification system to remove the CO2, water vapor and hydrogen sulfide from the biogas to turn it into usable methane. The system showed great potential for small communities to become sustainable in an economical way.
Category