Running a Company and Building Agricultural and Industrial Equipment with Mr. Paul F. Burkner
"We slept a lot of nights in the back of a pick-up truck waiting for the harvester to break down," Mr. Paul F. Burkner said with a smile during his recent seminar for the Department of Biological and Agricultural Engineering's Winter Seminar Series. In 1979, during those early days of Agricultural Industrial Manufacturing Incorporated (AIM, Inc.), it wasn't too difficult to find Mr. Burkner and his business partner Claude E. Brown, if you knew the color of his truck and which vineyard was harvesting.
Eventually, the two were able to move out of the truck and join Paul's brother, Charles in the shop as they used their experience and customer feedback to further develop their product and expand the business. Paul, Charles and Claude went on to produce a number of other notable products.
AIM is perhaps best known for its work on vineyards. Located in Lodi, California, Mr. Burkner had easy access to the excellent vineyards that surround and make up that area. The Four Wheel Drive Self-Leveling Grape Harvester makes easy work of harvesting and greatly reduces dependency on manual labor. Another machine, the Duel Row Vineyard Pre-Pruner--which is still in development--is an automated pre-harvest vine pruner.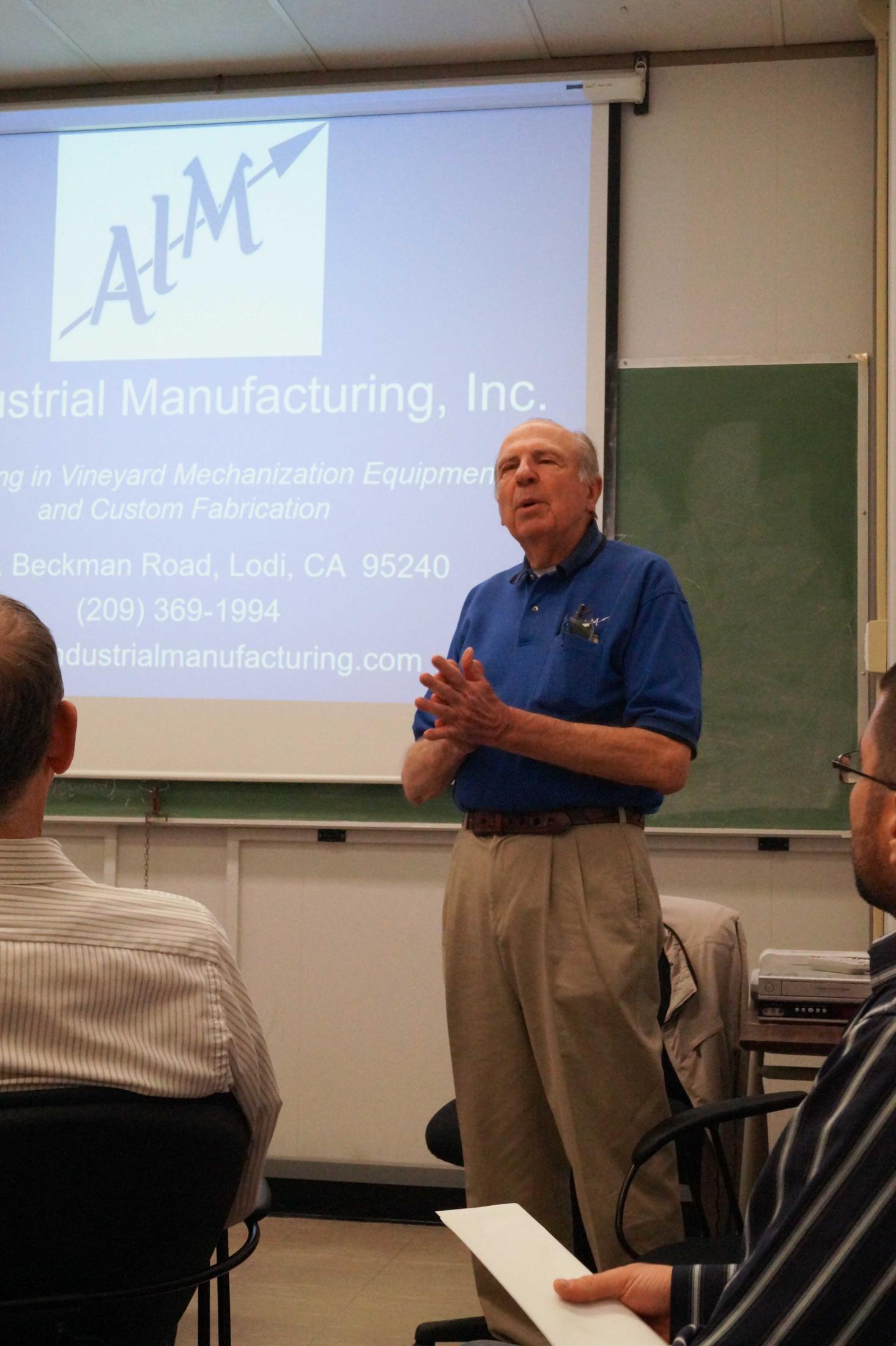 Other products AIM created include a Barrier Mover which moves the barriers on a freeway. These Barrier Movers streamline the lane diversions necessary before work is done on the road or other needed diversions on a freeway. A modified version of the Barrier Mover is in use on the Golden Gate Bridge.
The Radish Harvester, Dichondra Seed Harvester, Cotton Defoliator, and Golden Pipe Retriever make up some of their other products.
Mr. Burkner has also received a number of honors and awards along the way, such as a San Joaquin County Ag Hall of Fame induction, ASABE Fellow induction, and Cal Poly's College of Agriculture Honored Alumni Award.
As a Research Leader for the U.S. Department of Agriculture, Riverside, Mr. Burkner's research has been utilized in dozens of technical publications. The research has also helped in the creation of new techniques which have been widely adopted by industry.
But Mr. Burkner is looking towards the future.
"We need people that can take it to the next level," he said. Including vision sensing, robotics, yield maps, and other technology is a big part of the changing agricultural landscape and Mr. Burkner recognizes the need for talented individuals competent in this area.
Though Mr. Burkner no longer sleeps in the back of a pick-up, he's keep his down-to-earth attitude. On a personal and professional level, Mr. Burkner's career has been a true marvel.
Primary Category